History of Our Church
First exclusive French church in Saint Paul
1868
Northeast corner of 10th and Cedar December 20: Dedicated to Saint Louis, King of France
First Communion on Feast of Pentecost
1869
The school, Ecole St. Louis, was founded in 1873 and housed in a frame building. A new school was built in 1886 (pictured).
Parish school established
1877
Parish purchased Universalist Church at Wabasha and Exchange streets.
Church blessed by Archbishop Ireland
1881
Purchased house (rectory) and expansion land on Cedar Street
1886
Pope Leo XIII grants Archbishop Ireland's request regarding the Marists and Saint Louis
1887
Solemn Triduum to honor Fr. Peter Chanel, S.M. His relic is placed in the church
1889
Sale of the church located at the corner of Wabasha and Exchange announced
1906
Architects invited to submit sketches for new church at Cedar and 10th
1907
Emmanuel Masqueray selected as architect at same time as he is designing Cathedral of St. Paul. Masqueray said the Church of St. Louis was his favorite building; he called it his "little gem."
J.O. Morin Construction Company awarded contract for new church
1908
Laying of the corner stone for the new church
1909
Dedication of the new church and the Winter Chapel
1909
The Chapel Grotto of Our Lady of Lourdes
1910
A gift of Villaume family in memory of their daughter, Antoinette.
Consecration of the High Altar
1911
The children of St. Louis parish raised the $6,000 for the altar over four years. The altar has three bas-reliefs: the Sacrifice of Melchisedech, the Communion of the Blessed Mother and a portrayal of the Holy Crown of Thorns carried by St. Louis, King of France, our patron.
Stained glass windows commissioned and installed in the church
1914
Designed by a Robert T. and Isabella Giles of Minneapolis' Robert T. Giles Studio. Windows reflect French, French-Canadian and American history.
December 15: 50th anniversary of parish
1918
Tornado strikes church; steeple repaired/replaced
1934
Estey Pipe Organ installed for a cost of $3,800
1943
Used until present organ was installed in 1998.
Stained glass windows installed in the chapel by Reinarts Stained Glass Studios in Winona, Minnesota
1945
May 24, 25, 26: Solemn Triduum for the canonization of Peter Chanel, S.M.
1954
January 1: Fire in the north tower of the church
1957
Damage to the pipe organ, ornamental supports in the choir gallery and back pews (damage in choir gallery still visible).
50th anniversary of the present church building
1959
School had fallen into disrepair and was razed
1969
To conform to Vatican II decrees: white Carrara marble Altar of Sacrifice, Ambo and Lectern installed
1971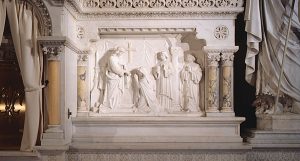 Sold school site land east of the parking lot (Point Apartments)
1983
100th anniversary of Marists at Saint Louis
1986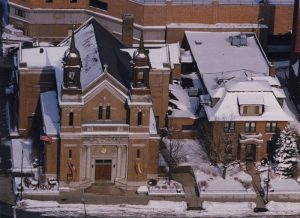 October 12: Mayor George Latimer proclaims Marist Day in St. Paul
Musique de Saint Louis
1990
The public music recital series was inaugurated.
Current bells installed; original bell placed outside church's northwest corner
1994
Casavant Fréres organ, a gift of Helene Houle, installed
1998
Remodeled chapel and sanctuary
2003
New furnace installed
2007
Replacing the 99-year-old original furnace. Original furnaces were railroad boilers.
Sanctuary lamp installed
2013
A gift of two generous parishioners, this new specially crafted lamp captures the essence of a lamp removed from the sanctuary during the mid 20th Century.
2015-16: Church stained glass windows refurbished
2015
The stained glass windows in the main church were refurbished through the generous contributions of parishioners and friends of St. Louis. Restoration by the Conrad Schmitt Studios of Berlin, Wisconsin.
Chapel organ gifted to St. Louis by John Nasseff and Helene Houle
2016
Built by Jan va Daalen of Minneapolis of components supplied by the organ builder Pels of Holland